With the modernization of urban construction, the development of urban lighting facilities has developed rapidly. Road lighting street lights, decorative lanterns, music lighting fountains, lantern lawns, lantern clusters, building spotlights, building lighting contours and other unique lights constitute beautiful Night scene system of city lights. However, while beautifying urban life, the maintenance of lighting equipment, power consumption, and management and control of street lamp systems have also become new problems. Therefore, in modern city construction and planning, energy-saving and efficient intelligent street lamp monitoring system is indispensable.

There are two common types of intelligent street lamp monitoring system: GPRS wireless equipment + centralized monitoring system of intelligent node control equipment and network monitoring system of GPRS wireless equipment + Zigbee terminal control node. The system topology diagram is as follows: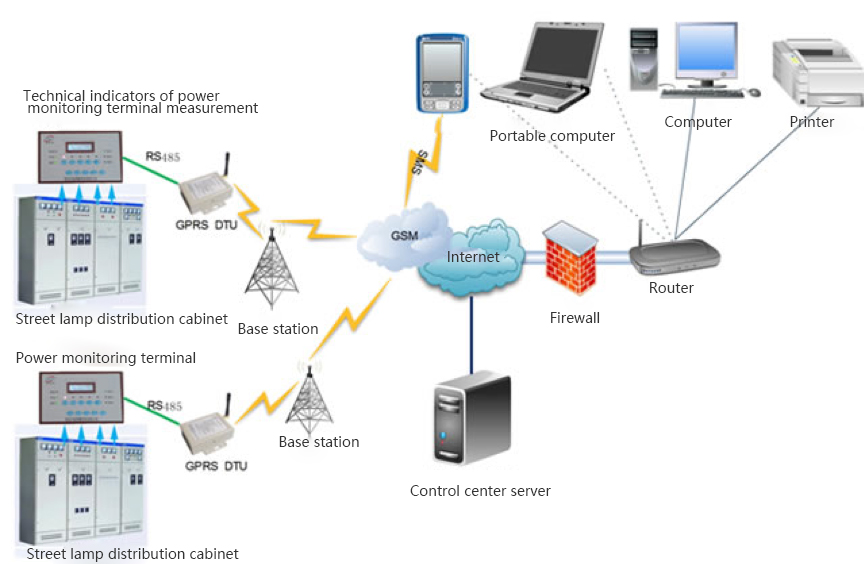 GPRS wireless street lamp monitoring system (GPRS DTU + power monitoring terminal)



This mode has low cost and powerful functions. It can not only monitor the operating status of each power distribution cabinet (working voltage, current of each branch, active power of each branch, reactive power, lighting rate, power consumption of electric energy meter, each branch Off state) can also realize the manual / time switch lights of street lamps, and at the same time, other sensors can be equipped according to user needs to detect the temperature environment of the power distribution cabinet or realize automatic alarm of smoke / water immersion (send to users by SMS) Mobile phone).
Among them, JBT300 power monitoring terminal adopts three-phase current and has six-way relay switching value. The measurement technical indicators are as follows:
KB3200 Power Monitoring Terminal Measurement Technical Index

Parameter

Accuracy

Resolution

Range

Voltage

0.5%

0.1%

0~999V

Electric current

0.5%

0.1%

0~9999A

Meritorious

1.0%

0.1%

0~9999KW

No use

1.0%

0.1%

0~9999Kvar

Power factor

1.0%

1.0%

-0.6~1.0~+0.6

frequency

0.2Hz

0.1Hz

45~70Hz

Electrical measurement

1.0%

0~999,999,999
(For specific information, please refer to the instruction of JBT300 power monitoring terminal)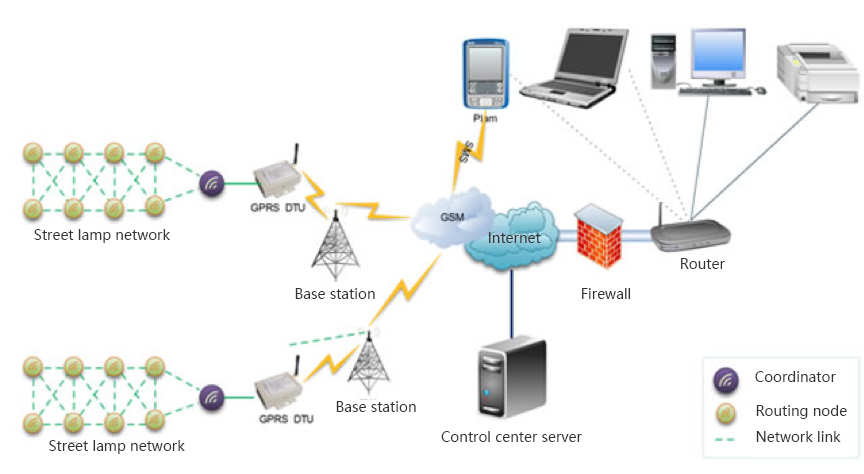 GPRS wireless street lamp monitoring system (GPRS DTU + Zigbee network)
Compared with the GPRS DTU + power monitoring terminal, this mode is more costly, but this system can specifically control each street lamp, monitor the real-time status of each monitoring point, and control more accurately.
In short, the two control systems have their own advantages and disadvantages, users can make a reasonable choice according to their actual application needs, or you can combine the two to achieve the most ideal results.